It's quite difficult to get all the children ready for breakfast kat hotel. And breakfast is served only up to 1030am.
But on the third day, hubby had gone to arranged for the guide who will bring us to Mt Kinabalu, to fetch us at 830am. Miraculously we managed to get the children ready for breakfast by 7am.
By 830am, the guide, named Amran was already waiting for us at the hotel lobby. The journey to the base camp of Mt Kinabalu was going to take about 2 hours.
But first, we stopped by the Sunday market in town, where they sell almost EVERYTHING - food, fruits, vegetables, medicines, clothes, antiques, souvenirs, accessories, cats, dogs.
Serious, wa cakap sama lu.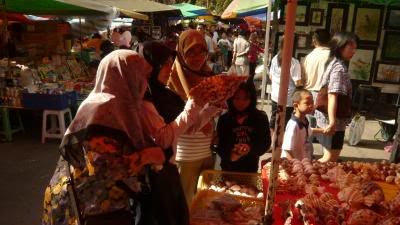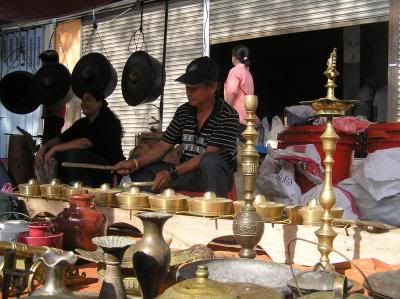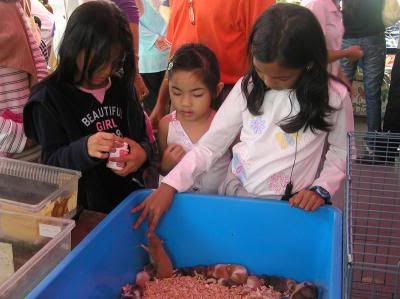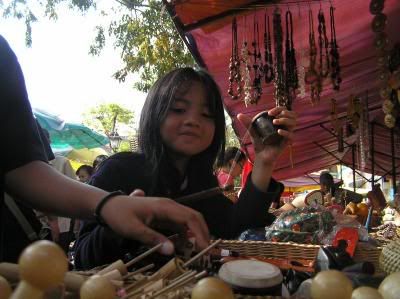 The girls and I, only bought a few stuff there.
Along the way, Amran, or Arman - his real name, stopped at Tamparuli to show us the very long hanging bridge over the Tuaran river. The kids had some fun jumping and shaking the bridge, and we took some pictures.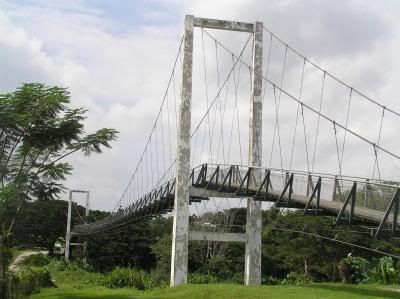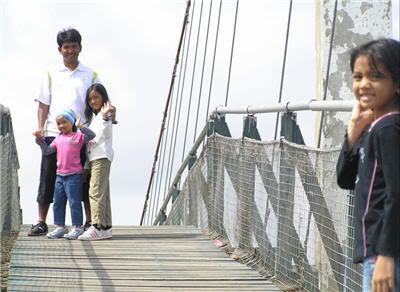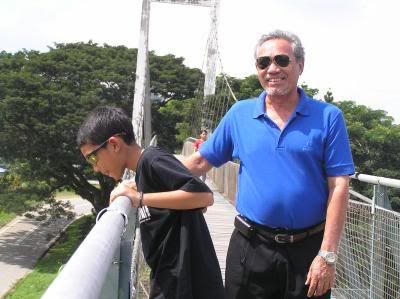 We were also told by our guide, that the legend says that Tamparuli is a lady's name - a lady who liked to sit under the bridge and sings well. The story stopped there before he went on to tell us about the day he got married. Not to Tamparuli.
*How that Arman changed to Amran - He explained that most tourist, especially the Japanese, were unable to pronounce his name properly (same predicament as I - which i was going to blog about another time, still in neuron planning stage). So back to Arman - it was more convenient or easier for the Japanese to call him Amran instead.
Although the journey was about 2 hours, it was not boring, because we were entertained by the beautiful sceneries.
Next we stopped by a souvenir shops area in the highlands. Got crazy bargains. Like if the price is RM28, before you even start to bargain, they would offer "Ini 28 - saya kasi 18 aje." That's good for me, because u know me, not-a-shopaholic, poor-at-bargaining person. We got lovely rattan bags and purses.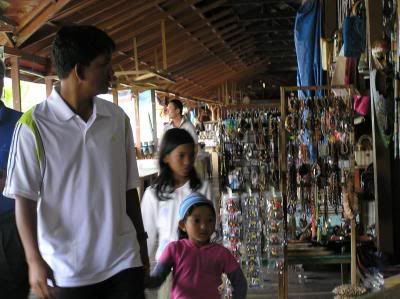 We continued on our journey to Mt Kinabalu's Timpohon Gate, one of the gates where hikers can start their journey. One of the signs there says "Don't take anything except photographs. Don't leave anything, except footprints". Heh.. cute.
Even at that level, it was already very high and cold. The atmosphere and the scenery there is breathtaking.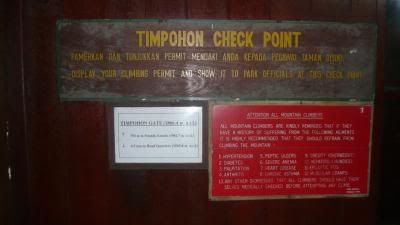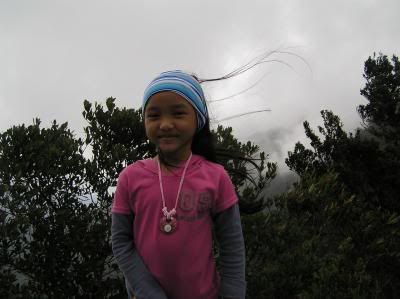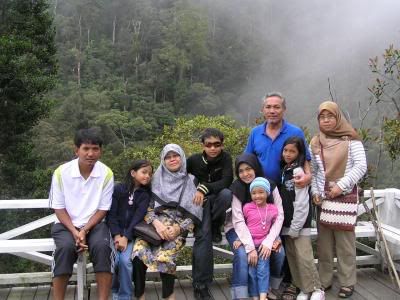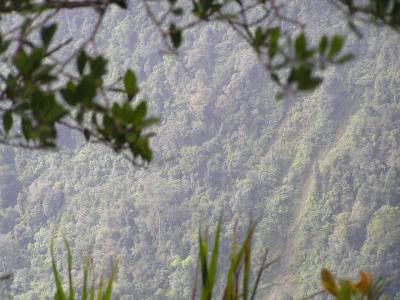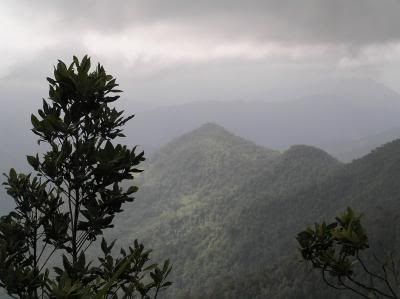 After taking
a zillion
many many photos there, we went to the picture museum. In there it says of Mt Kinabalu :
Mt Kinabalu's name is a mystery. The most popular view derives from the Dusun word "Aki Nabalu' which means 'the revered place of the dead'. The local Dusun, believes that their spirits dwell on the mountain top, among the bare rocks or the summit grows moss which early dusun guides said, provided food for the spirits of their ancestors
hmm.. (note, it's not word for word cause i attempted to correct some spelling and grammatical errors from the original)
By the way, Dusun and Kandazan are two of the several different groups of natives in Sabah. There is even a newspaper in the Kandazan/Dusun language - which looks and sounds nothing at all like Malay.
After that, we went for lunch.
I thought Gardenia only produces bread...
Then we made a detour and stopped by Poring Hot Springs. Even along the way also, there are so many places you'd like to stop and take pictures. I managed to convince hubby to stop one place for pics.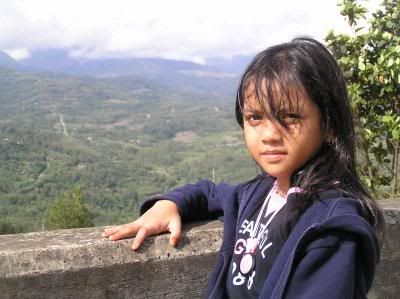 We reached Poring Hot Springs about 430pm where we had a foot dip. We also did our solat there.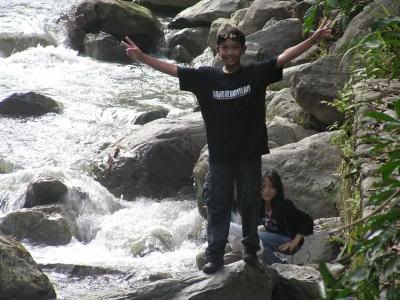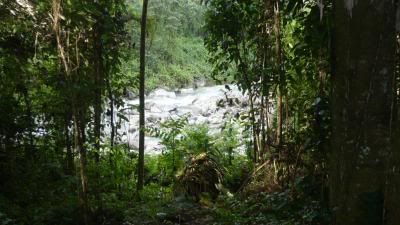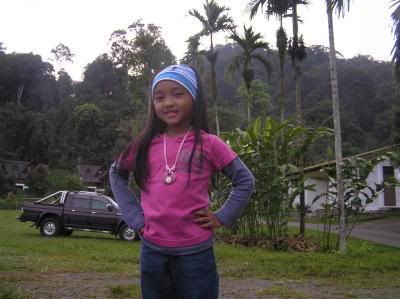 After that we headed back to the hotel. It was a fruitful and beautiful trip. I was also surprised that the children were not bored, although there were no kiddie or thrill rides whatsoever. Packing a LOT of snacks and water for the journey helped.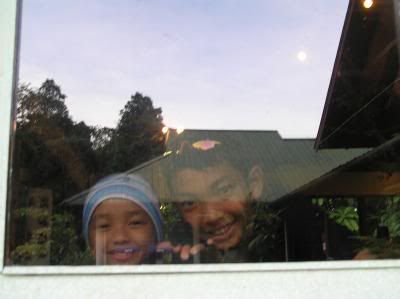 The journey back to the hotel was about 2.5 hrs. The children were asleep most of the time. And not forgetting how fast and sudden the night fall is, it was pitch dark half way through the journey back.
We safely reached our hotel about 830pm. Alhamdulillah.
Wow.. 12 hours. Lepak.