oh yes. there is a part 3. We stayed there 5 days in total. At first, I couldn't imagine what we would do there for 5 days - but I guess it's quite a relaxed schedule. no rush.
On the 4th day in Sabah,
hubby and hadi spent the WHOLE day playing golf.
My parents and Hanaa, went out to town.
Eema, Nadhrah, Rus and I, just lazed around the resort.
In the evening, the girls did some activities at the Little Magellan club.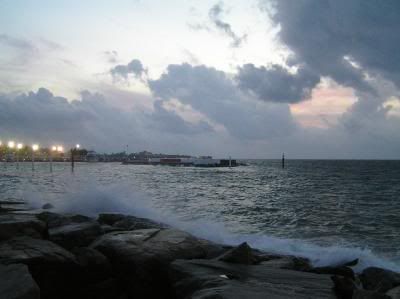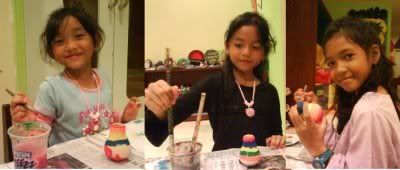 At night, we went out to town for dinner, but after half a day of swimming, Nadhrah knocked out by the time we ordered the food.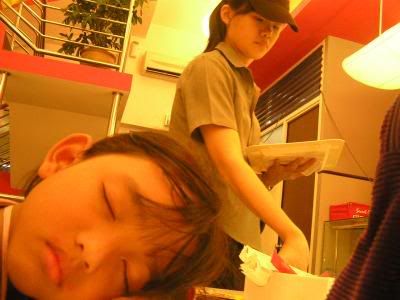 But that's ok. It's good that the children slept early that night, because the following day, we went out very early again. Arman the guide, had suggested previously, that we should go to the Tip of Borneo, and some other attractions along the way.
And so we were on our way to the Tip of Borneo, which would take about 3 hours to reach. Of course, the beautiful sceneries and snacks kept us occupied.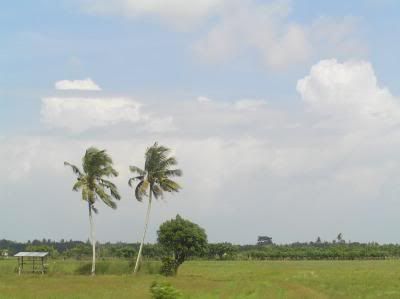 We also stopped at a couple of tourist spots along the way.
The first stop was the Honey Bee Farm at Kg. Gombizau. I've went to a honey bee farm before, in Australia. The people there, wore full suits, including a net mask. Down here, the lady guides and us, went in without any protective gear whatsoever.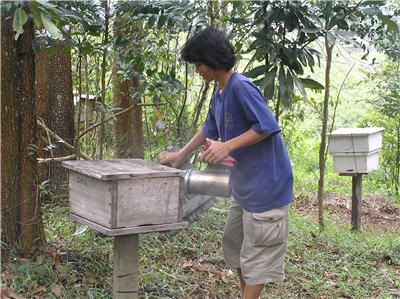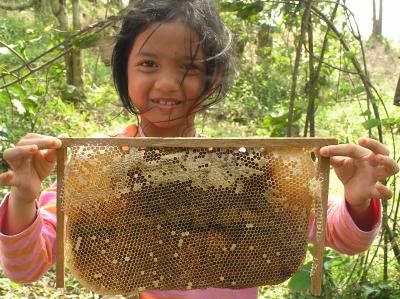 Next, we visited the Rungus Longhouse, at Kampung Bavanggazo. The Rungus people used to live in the longhouse - also known as 'Binatang' in their language. But they are modern now, and they live in another type of wooden houses and they no longer wear their traditional clothes. We had fun 'playing' in the Binatang.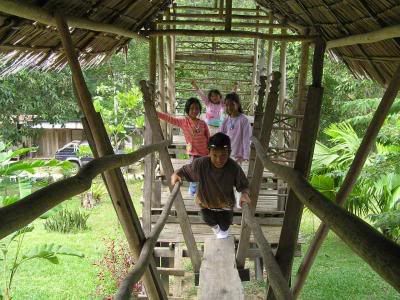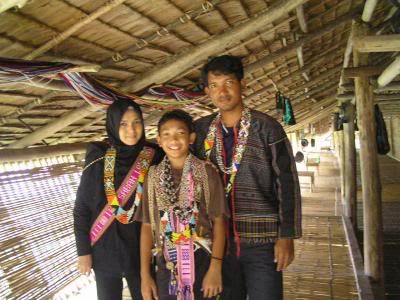 Then we were gently reminded about the time, by our guide, Arman, who said, "masa mencemburui kita." waaah.. boleh jadi lirik lagu. We needed to get BACK to KK by 7pm, if we are going to catch our plane back. And we have not even reached the Tip yet, and it was already 2pm.
On the way to the Tip of Borneo, we were greeted by hundreds of swaying coconut trees.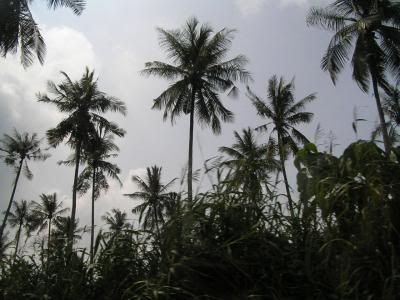 Actually, I wondered what could be so interesting about the Tip of Borneo. I can be at the tip of anywhere what.. I'm always at the tip of Singapore. But they say the view is nice.
After about 45mins more, we finally reached .... the TIP of Borneo.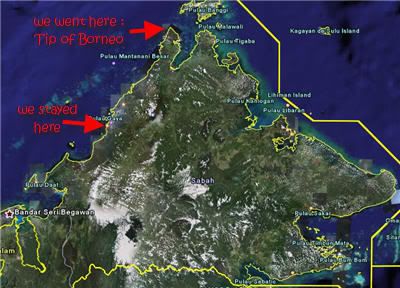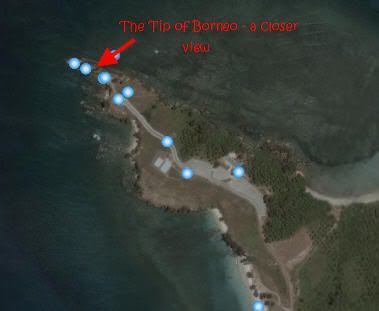 And Subhanallah! the view IS spectacular.


Words or pictures cannot describe the view well.
So I'm trying it with a short video.
But being there, beats them all.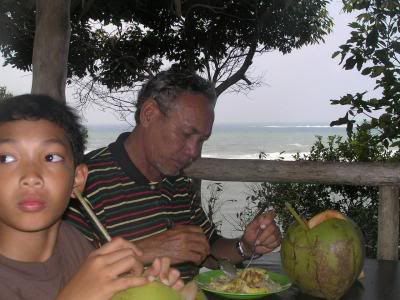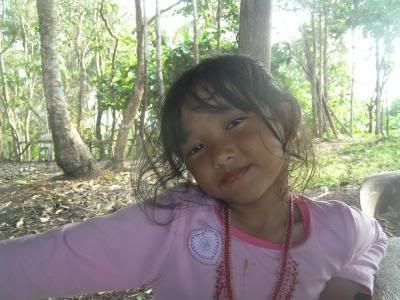 After that, Arman aka Amran, who by the end of the day, had 2 more names - Imran and Raman (thanks to my parents)- rushed us back to the hotel to get our bags and head for the airport. One thing we did not get to do in Sabah, was to try the kelapa bakar that Arman was telling us about. We planned to have it on the way back from Kudat, but since we were rushing back, we couldn't.
We reached the airport, said our thanks and goodbyes to Arman aka Amran aka Imran aka Raman. Got into the airport, only to find out that our 9pm flight, has been delayed to 0025hrs.
Anyhow, I'm safely back in my home now. Alhamdulillah. We reached Senai about 240am and our home just before 4am.
So how was Sabah?
It was very interesting, and the mountains and sea views, were spectacular.